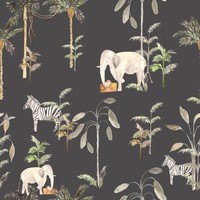 Courtney-Paige Bennett
BA (Hons) Textiles in Practice 2020
I currently specialise in printed textile design. My practice combines hand drawn elements, painting and digital processes. Throughout my practice I utilise my compositional skills to produce mood boards that reflect my conceptual and contextual ideas. When designing a new collection, I take time to consider the space I vision my designs. I relate to natural elements within my practice as my main source of inspiration.
One of my recent collections 'Whimsical Jungle' focuses on wildlife conservation and promoting the education and awareness of this subject through my unique story telling designs, that are hand-painted and digitally printed. Created to ignite children's playful imaginations and encourage a love of wildlife through interiors. This collection combines digital wallpapers and fabrics.
I rely predominantly on primary research to gather material that inspires my drawing and narrative. Throughout my portfolio I have strived to establish diverse styles as a practitioner. Playful and witty yet, also sophisticated designs developed from personal narrative.
I am a versatile designer aspiring to create schemes and mood boards for interiors.