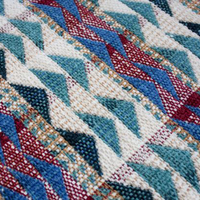 Bethan Howgate
BA (Hons) Textiles in Practice 2020
I am a woven textile designer, inspired by the traditional craft of weaving and during my final year at university I focused much of my work on historical references that have been influenced by nature. I tend to use primary images utilising my photography skills to gather ideas which provide the basis for colour and pattern for translation onto the loom.
My attention to detail helps me create intricate samples that show a range of technical skills and relevant weave structures. I have enjoyed exploring a range of yarns, which have helped me to understand the potential different qualities they can bring to my woven samples; this has helped me to identify what works well in an interior setting.
Although my initial ideas come from my design work and research, I tend to make a lot of my crucial design decisions whilst on the loom. This is where I can be more intuitive in the making of small design adjustments such as colour or yarn type to add more spontaneous and experimental aspect to my samples and thus create more contrast within my work.
Post-graduation I would like to further develop my skills in woven design and gain experience in the textile industry.
Contact Bethan