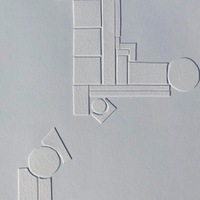 Caitlin Wagstaff
BA (Hons) Textiles in Practice 2020
The work has been designed and developed with an interior context in mind, in particualr these projects have been focused on creating different fabrics, hangings and dividers for commercial and domestic spaces. The fabrics have been made using a range of different techniques such as dying, pleating and drawn threadwork. The two projects have different qualities in terms of colour and design, whilst still being designed for interiors. The mechanics project was inspired by the structural and strong shapes in Forklift trucks. The trucks were deconstructed and simplified into bold patterns, that were then visualised as wall hangings and dividers. This project was mainly focused on creating wall hangings and dividers for commercial working spaces, to create an enjoyable working environment with reduced noice and increased privacy. The gaps in the drawn thread or panels allow light to be reflected to create an immersive space to be enjoyed.
The two projects both had different starting points and values; creating work that was diverse. The water project was about a loss of control and the rythm and movment created by water; where as the mechanic project was much more about keeping in control of the work and the space. The two projects together show that different kind of fabrics and materials ceated and how these could be applied to a range of different spaces depending on what is required or preferred.
This year I also took part in two live briefs with Virgin Atlantic and Beachcroft Law firm to create interior based deisgns - focused on hangings and wall art, which is the area my work is focused towards. Building skills in pitching, working with clients and working as a group. These briefs also demonstarted how my designs and fabrics could be used in varied contexts. I aim to work in interior design and styling, to create new and innovative work for interiors.