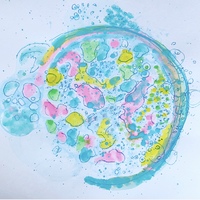 Chloe Adams
BA (Hons) Textiles in Practice 2020
As a textile designer my practice mainly consists of intricate embroidery designs for the children's market. As a traditional embroider, I enjoy hand and machine stitch incorporating colour and fabric dying, exploring a variety of different processes within my practice. My work is fun, chaotic and busy and it draws you in. Colour is a huge part of my practice. I love to experiment with tones and hues and creating new colour palettes. I am continually experimenting and mixing colours through stitch.
I gather a lot of my inspiration from my busy home life with my two children. A recent project is based on dispersed bath bombs, but I also took inspiration from my trip to New York in March. Drawing is a key part of my practice and probably what l enjoy the most. I embrace mark making and free style drawing techniques. I use it to develop ideas and visualisations.
My aspirations are to gain work either within an embroidery context or I'm also very interested in art within the community and how l can use my textile skills to help people.
Contact Chloe