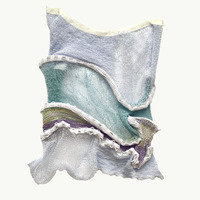 Eleanor Goulden
BA (Hons) Textiles in Practice 2020
As a specialist in knitted fabrics for fashion, Eleanor's practice investigates process and materials both on and off the machine, through technique, colour and yarn experimentation. With a keen interest in trend forecasting Eleanor demonstrates her ideas for future thinking and directional design. Which has resulted in a varied portfolio of work showcasing an ability to continuously search for inspiration and methods to set new trends.
Throughout, her practice objectives have been used to help drive the projects forward but keep them focused. The project 'Off balance' takes inspiration from surrealism art by looking at everyday objects and making them unrecognisable. Taking her own photographs and manipulating them formed the main source of inspiration. This then informed a multidirectional A/W collection of knitted fabrics for fashion womenswear.
The final collection demonstrates the exploration of technique, specifically in terms of linking and shaping, to create an asymmetric and misaligned effect. These techniques also give suggestions of garment placement and are explored through fashion illustrations to give a true sense of their fashion potential.
Collaborating with a fashion technology student in an additional project has also influenced Eleanor's context in the full creation of knitted garments for a collection and will lead to engaging in future collaborative projects and opportunities.
Overall, Eleanor's practice has allowed her to develop a distinctive style resulting in a desire to work in trend, with a focus on sampling for fashion or knitwear design.
Contact Eleanor