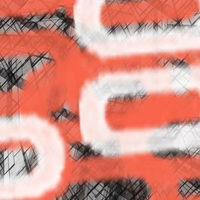 Sadie Hall
BA (Hons) Textiles in Practice 2020
I am a Textile Designer specialising in Print design for Fashion. I predominantly use photography as the basis for developing my design work. My design concepts are influenced by my interest in science, the built environment and technology. These themes have offered me significant opportunities for research and experimentation, and the challenge of translating the concepts into desirable surface pattern designs.
Circuit City was inspired by old circuit boards and how they could be related to the Manchester cityscape. Interlinking and exploring potential connections, in terms of physical structure and energy. The resulting designs were visualised onto luxe leisurewear. I have always had an interest to design for fashion, but after undertaking a placement at a fashion company it made me realise that was the route I wanted to take for my future. I take inspiration from OFF-WHITE, for the different and innovate looks that challenge fashion.
In the future I hope to be able to work within the fashion industry as well as working independently setting up my own company using my print designs and putting them onto swimwear.
Contact Sadie