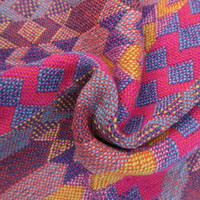 Ellie Williamson
BA (Hons) Textiles in Practice 2020
I am a woven textiles designer who weaves traditionally, with a contemporary twist. My passion is to explore colour and texture to create a variety of modern and commercial fabrics, ideal for fashion and interiors. I have grown up in The Lake District, surrounded by beautiful landscapes and natural beauty. This is the source of my inspiration, from the stunning majestic lakes to the harsh towering fells, I can always find something that captivates me.
Craft has become the underpinning element of my practice for the entirety of this year. The famous Blackwell Arts and Craft House, which overlooks lake Windermere, introduced me to The Arts and Crafts Movement with its elements of design influenced by nature. This led me to take inspiration from my surrounding landscapes and taught me to look deeper into the purpose of design. Today we are saturated by such a mass and variety of textiles that I have wanted my crafted textiles to stand out. My designs have used quality materials where possible, are practical as well as having natural beauty. With these qualities in mind my practice has developed into an encompassing theme of 'Beautiful and Useful' inspired by the ideals of William Morris.
In the future, I had hoped to continue developing my skills in weaving and design with the aim of finding a job within the textiles industry. However, in these challenging and uncertain times I have found myself reevaluating my future. The way ahead is uncertain, but I am thinking positively. I plan on purchasing my own loom with the hopes of starting my own business, creating beautiful, contemporary woven fabrics, with its very roots in the landscape of The Lakes where I live.
Contact Ellie