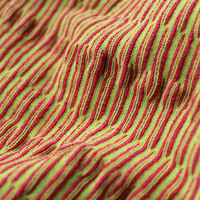 Ellis Commins-Dean
BA (Hons) Textiles in Practice 2020
Throughout her third and final year at Manchester School of Art Ellis has specialised in knitted textile design, developing a keen interest in understanding yarn structure and how this can be manipulated for more commercially driven knitted fabrics. With a strong focus on the finished qualities that different yarns can create, she has developed simple techniques into more stylised, final outcomes. Learning to understand how different yarn structures can be curated and moulded through knitting has been a strong development throughout her university experience.
Ellis' projects have had a strong focus on colour and texture. A simple but well considered colour palette is something she has found works well when designing and responding to new project briefs.
Her work she has combined the curated textures and linear movement of the knitted design fluidly, with the work usually adhering to a more illustrative style.
Alongside Ellis' studies she has volunteered at various Art Galleries throughout the Manchester area. This has given her the opportunity to fully immerse herself in understanding how the curation of artists work can impact the perception of the work for the audience. She not only found an interest in how people engage with the work, but has developed an enthusiasm for how the conversation between an artist and its audience can have beneficial impact on all its participants.
Professional artistic practices have an abundance of proven positive effects on the physical and mental wellbeing of its participants and Ellis wishes to continue to enable this experience for a more diverse audience.
Connecting 'Art' to people is something she hopes to pursue upon leaving Manchester School of Art.
·