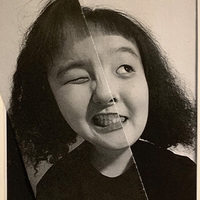 Hyo Kim
BA (Hons) Textiles in Practice 2020
Hyo is an artist, creating 3D knitted structures and forms, her interests lie in exploring the human body and face. Hyo's strengths lie within her abstract collage and how she translates them into her designs, with hand and machine knitting. Furthermore, working with hand and machine embroidery to create new textures forms an important aspect of her practice.
Pattern making and collage are the key skills she uses to develop an idea, which she has used extensively within her projects. Playful experimentation and the collection of images is critical to her design development and she especially enjoys using hand-made processes. Hyo aims to show a crafted element to her work and by combining and enhancing materials she gains a broader understanding of the materials she is using, to create her own style and identity.
Throughout Hyo's portfolio it is evident that she has continued to push her ability to construct her own style as an artist. Playful, yet a little bit weird, her knits developed from a personal narrative to help the viewer to challenge the connection of their visual memory, to the dynamic structures created within her practice.