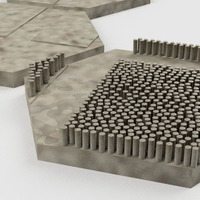 Sophie Knapper
BA (Hons) Textiles in Practice 2020
My practice exists as an unrestricted investigation into sustainability, process and innovation. I am interested in experimenting with integration of digital and tangible matter, to create contemporary design using traditional and modern processes. These themes are underpinning throughout each project that I embark on, like a thread that stitches ideas together.
Considering our ever-growing planet, I have become conscious of the excessive waste within design; this has led me to adopt an important ethic towards little to no waste in the process. I believe that materials are the catalyst in design innovation, and that it's of high importance to source and design responsibly. I am driven by concept to develop strong design focuses that inform spaces and products to which from here the beauty of design flourishes; I have learnt that the most interesting work is born from experimentation, failure and happy accidents - experiencing these failures have spurred more successful ideas to come to life. Boundaries are just walls for me to dance around in, and from that the solutions and ideas can escape through the doors that are built in the process of design.
During the pandemic I have introduced a 3D-printer which has enabled me to create bespoke and localised samples, and I am hoping to build on these abilities with the technology as a practitioner to enhance future design and collaborations. It has opened up many possibilities of experimentation and manipulation to explore the tangibility of natural textures translated into digital surfaces.
Throughout my degree I have been shortlisted and won commissions for Manchester International Festival (MIF), Virgin Atlantic, STAC Architecture and DAC Beachcroft. Within these opportunities I have been able to work in teams, collaborate and experience how my design toolbox can be applied within different design spheres; enriching my conceptual development and professional manufacture awareness.