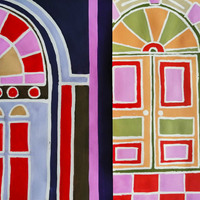 Izzy Higgins
BA (Hons) Textiles in Practice 2020
I am an artist and textile designer specialising in print design, and I am interested in experimenting with shape, colour and composition.
My work is informed by my travels to different countries, drawing on location and experiencing different cultures. My most recent project 'Sultanahmet' is inspired by the district of Istanbul with the same name - the ancient city of Constantinople and it's bold colours, decorative architecture and ornate objects. My method usually involves creating designs by hand - either drawing, painting or collaging - and then digitally editing these designs and translating them onto fabric.
Working with bright colours is a key element in my work. I enjoy exploring colour relationships, which leads to bold and striking paintings. I have a versatile drawing style and also enjoy experimenting with traditional printing techniques such as screen printing, using reactive dyes and hand dyeing materials.
Post-graduation I want to explore internship options to gain experience in different areas of the industry. Alongside this I will continue to build on my passion for drawing by starting up a small-scale business, producing and selling scarves and paintings.