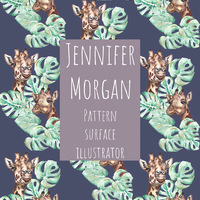 Jennifer Morgan
BA (Hons) Textiles in Practice 2020
I've always had a passion for drawing since I can remember. Having the opportunity to study at Manchester School Of Art has given me a fantastic opportunity to explore my interests and direct me into the right path to my suited career.
If I were to describe my work I'd say it's playful, detailed and packed with character. Throughout my last year here at MMU I've become aware of my passion for architecture and animal illustrations that's inspired me to extend my portfolio. With my goal to become a designer in the stationery industry, I wanted to interpret personality and humour into my drawings that can then be produced onto cards and wrapping paper.
Keeping up with changing trends in the stationery industry, I tend to get my inspiration from the gaps in the market. Starting off my drawings with the traditional process, I then finish them off with photoshop where I then marry my illustrations together to create my patterns in a digital form.
Working within the University has allowed me to open the doors to confidence within myself and my work. having the opportunity to pitch in front of brands and work within teams has allowed me to communicate through creativity and passion opening doors to the industry.
Contact Jennifer