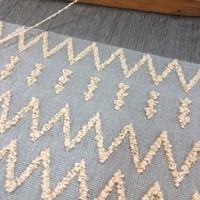 Kira Goddard
BA (Hons) Textiles in Practice 2020
I am a woven textile designer with a keen interest in texture, colour and adding a three dimensional element to my work. I am inspired by repetitive patterns within architecture in built up city's, such as Manchester. My aim has always been to create fabric for interior furnishings and most recently interior furnishings for a commercial use. I am material led and I pride myself on experimenting with many yarns to find one that is fit for the project at hand.
Throughout my university journey, I have gained many skills in CAD, such as Scotweave (Jacquard and Dobby designer) and Adobe Suite. I also have skills in using a TCI Jacquard Loom, Harris table top looms and ARM looms. I am very proud to be a weaver and to bring attention to a beautiful craft.
Graduating during these uncertain times is certainly a challenge. My aim has always been to progress into a career within woven design, however due to covid-19 it has been difficult to find opportunities. I am taking the next academic year to explore my passion for teaching and will be studying an Art and Design PGCE at MMU. I intend to take on freelance deisgn work during this year to keep on developing my skills and hopefully I will have oppoprtunities to carry out work experience alongside my teacher training. I am very excited about where the futute is going to take me.
Contact Kira