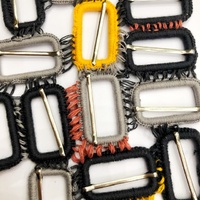 Kirstyn Eaton
BA (Hons) Textiles in Practice 2020
Kirstyn is a textiles designer specialising in knitwear. As a practitioner, she combines the use of machine knitting and hand processes such as crochet, to create a variety of juxtaposing textures. She takes an experimental approach to her work by using a variety of different weight yarns to create samples for her knitwear collection.
The contrasting geometric shapes from deconstructivist architecture inspired her project. Taking on the ethos of an absence of continuity and symmetry, Kirstyn's design process started with deconstructing original knitwear garments and reconstructing them in various different ways, creating asymmetric silhouettes. She took inspiration from designers such as Acne Studios for their 'undone' aesthetic and used this style as a basis for her sampling. Unrestricted by the typical boundaries of pattern cutting, Kirstyn's designs constantly evolve at each stage of construction. The flexibility of knitted fabrics is something that she uses to her advantage when forming her collection, combing both structured and relaxed silhouettes.
Going forward, Kirstyn intends to use her skills learnt at University and apply them to her professional practice. She plans to gain experience in the fashion/textiles industry where possible in order to peruse a career in that sector.