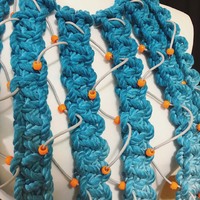 Lilly Eavy
BA (Hons) Textiles in Practice 2020
My textiles practice specialism is Mixed Media which consists of design, innovation, and material exploration. Within my work I focus on utilising traditional hand manipulation techniques such as macramé, fringing, yarn wrapping, ragamuff, embellishment and dying. I enjoy being experimental with process to create a range of unique and playful textiles such as garments, 3D objects and installations that can be used within public spaces such as galleries also, the commercial and fashion industry.
The context behind my recent work ENTANGLED- part 1 & 2, discusses environmental issues and cultural identity. Taking inspiration from traditional tribal festival costume to inform the aesthetics and movement of my designs. I also find inspiration from artists, designers and organisations that work on being eco-friendly and the idea of transforming unwanted 'stuff' into something new and innovative.
My final year study has been focused on fusing a global scale problem 'Ghost Fishing' with fashion. I hope to spread awareness and open discussion to a wider audience, on how materials from fishing equipment pollutes oceans and endangers marine life by destroying habitats and often killing animals. To take a resourceful approach to my practice I upcycled and repurposed second hand, found and unwanted materials by exploring various hand manipulation methods. My graduate collection ENTANGLED- part 2 is a vibrant and playful range of garments that showcases the importance of current environmental issues and how as a community we can begin to help reverse the man-made destruction of nature.
I will continue my creative journey and develop as an artist by studying my Masters degree in Textiles. Furthermore, I hope to one day see my own work within a gallery setting and aspire to create my own business/ brand.
Contact Lilly