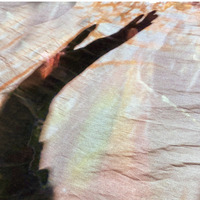 Olivia Tew
BA (Hons) Textiles in Practice 2020
At the heart of Olivia's practice is the relationship between our intimate, sensory worlds with our exterior, material realities.
Working at a creative interface between materials, making and meaning, she is interested in how physical interactions with our material environments can help facilitate deeper notions of personal understanding. Allowing the hidden to be seen is a continuing theme explored throughout her work and this translates into how she handles materials, often taking discarded objects and manipulating them by hand, to transfigure them into a new life. Reaching her outcomes requires a process of becoming intimate with her subject matter, observing their sensory qualities, to then let her manifest it in material form.
In her latest project The Mourning Sun, she explores the visceral experience of change, loss and growth. Just prior to Covid-19 and the beginning of the social isolation period she suffered a family bereavement of which has impacted her family members in different ways. She investigates the possibility within this intimate time to create a space in which we can physically navigate these feelings on our own terms. As we each navigate our new realities within the collective stillness, she hopes this space can give hope to a new future of which we may currently not be sure of.
With each project Olivia's practice continues to naturally expand, further establishing her artistic identity. Interested in material futures, she intends to explore this further with future study. She is currently seeking experience within a creative environment to broaden her professional and personal horizons.
Contact Olivia