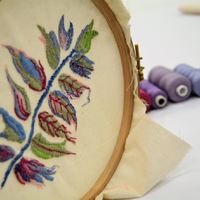 Samiya Nazeer
BA (Hons) Textiles in Practice 2020
Samiya Nazeer is a textile designer, specialising in embroidery and mixed media. She love creating contemporary patterns for home textiles like bedding and wallpapers.
Her designs are mostly inspired by nature and history and she really enjoy collecting historical research from around the world converting her traditional/historical research into contemporary designs.
Her favourite amongst all embroidery machines are the ethos digital embroidery machine and the Jukie free hand machine. Samiya test the samples on these embroidery machines before making final pieces
Samiya also create print designs for home textiles. Creating fresh and beautiful colour pallet is also one of m her strong skill. Samiya thinks, she have a good understanding of colour balance and colour contrast.
Her goal is to encourage textile craft in Pakistan.
Contact Samiya