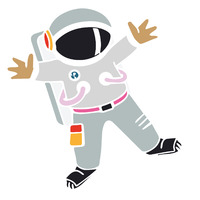 Sarah Bullock
BA (Hons) Textiles in Practice 2020
Sarah is a digital print designer, and considers herself to be very versatile. She is confident in using Adobe programmes and enjoys exploring other aspects of design within her work, such as illustration. Sarah's portfolio consists of print collections, trend forecasting, graphics and illustration. This range of techniques can be transferred to all aspects of the design industry.
Sarah enjoys working with colour, scale and composition, using block forms and shapes to work into digital drawings. She also has a keen interest in trends due to time spent on a past internship. All of her work is trend driven – ensuring her collections are consistent with the industry and coming years. Sarah's portfolio consists of both repeat and one-off designs. However, she has a strong knowledge of traditional printing techniques, including transferring drawings onto screens and placement of screen on a variety of fabrics.
Cosmic Wonder is a children's interior collection designed by Sarah which is based around colour and the universe. This was Sarah's take on a live brief set by The Society of Dyers and Colourists. She decided to focus on designing bold colourful prints for boys and girls aged 4–8 years. Education was also an avenue she decided to explore. She was able to design and create a book using her illustrations, presented in a child friendly layout that is both engaging and informative.
Post-graduation, Sarah is starting a MA in Fashion Buying and Merchandising at Manchester Fashion Institute. Sarah intends to draw on her knowledge of design and apply it to business. Sarah has aspirations to work as a buyer in a fashion headquarters and believes undertaking this MA will help her succeed. Sarah has said she will continue to design prints in her spare time as this is still a great passion of hers.
Contact Sarah