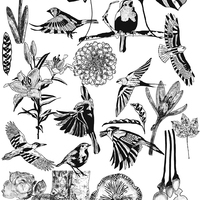 Sasha Ray
BA (Hons) Textiles in Practice 2020
I am an artist and a printed textiles designer.
My work is inspired by museum archives, nature, literature, film and music narratives, and photography of our urban environment. The strength of my work lies in uniquely combining digital collages with hand painted abstract work and digitally drawn motifs. I enjoy expressive mark making, abstract paintings and colour experimentation.
My designs are applicable across both interiors and fashion contexts. I am particularly interested in creating large scale wall murals, wall art installations and textile collections for commercial premises such as hotels, bars and restaurants.
On graduation I will be adding my bespoke design service to my existing digital wall art practice and developing my skills further with a Masters degree in Painting.
Contact Sasha