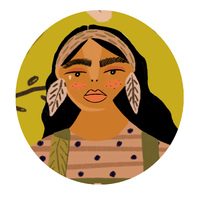 Sophie Cherrington
BA (Hons) Textiles in Practice 2020
Specialising in printed textiles and illustration, I have a strong passion for communicating colour, texture and pattern within my designs. My enthusiasm for illustration is prominent within my practice, and for every project I begin by producing a large body of mix-media drawings and paintings to generate innovative designs from.

When producing a collection within printed textiles I am mainly inspired by nature, particularly flowers because of their shapes, colours and textures. I design collections suitable for home interiors, and my collections will explore a combination of digital and screen-printing processes translating across both wallpaper and fabric upholstery.

I would describe my drawing style as expressive and playful with colour being my main focus, throughout my time at university I have explored a range of drawing styles, my most recent style I have explored is producing detailed illustrative prints of figurative ladies suitable for wall art.

After graduating my passion is to become a freelance artist, where I aim to launch products combining both my passions for printed textiles and illustration to create paper based and handmade crafted products, where I will also be open for clients and commissions.