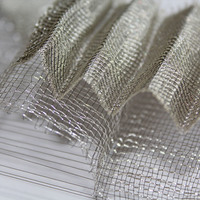 Tabina Dawood
BA (Hons) Textiles in Practice 2020
Contemporary in its approach, Tabina uses mixed media to explore her physical art work through drawings and observations. This is to maintain that human touch; where she can work in both controlled manner and free hand.
Her journey began from very traditional designs to very geometric and contemporary designs: maintaining the intricacy and architectural inspiration throughout. Her desperate desire to weave, being in mixed media, lead her to take risks and she started to weave on very unusual and peculiar mediums outside the loom, such as on pins and laser cut Perspex.
Tabina has always been very influenced by Architecture; stopping and rethinking, she moved her focus from looking into the rational old to modern architecture. There is geometry, transparency and industrialised colours. To be able to make something that looks very architectural but behaves very textiles-like, she started from hammering pins on clear Lino sheets to weaving on them to stitching through them. This is where her work becomes very innovative and personal.
In her final year, she decides to find a different source for geometrical designs: inside the computer. Unlike architecture, it is always hidden. Inside a computer, its details do not have to be so visually and aesthetically pleasing but they are. And this is a very interesting phenomenon to her.
Contact Tabina