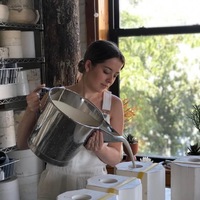 Eleanor Wain
BA (Hons) Three Dimensional Design 2020
ELLIE WAIN IS A PROCESS-LED, CERAMIC DESIGNER-MAKER WHO BELIEVES THAT THE PROCESS OF MAKING IS JUST AS CRUCIAL AS THE FINAL OBJECT.
Ellie is fascinated by the concept of manipulating the typical stages of the mass production technique of slip casting in order to produce unique outcomes. By utilising the properties and capabilities of liquid slip, she explores pattern and texture in ceramics through the adaptation of moulds and process.
Inspired by Scandinavian ethos and aesthetic, Ellie's work is often minimal and attempts to be effective without needing heavy elements. This considered simplicity draws attention to the small details that illustrate a concept.
There is always a strong relationship between her pieces and nature as much of the inspiration comes from the world around her. Naturally occurring patterns is often the key influence, and more specifically patterns that are made up from line.
Ellie enjoys exploring colour. While they are often muted, or examine a spectrum, cross-testing, tweaking and developing a unique palette that fits comfortably with the objects is something that is always considered. She aims to create colours that match those that are picked from her own photography.
Driven by the relationship of the user and the object, Ellie enjoys making things that can be useful to somebody. While naturally drawn to designing and making objects that fulfil a function, the form of her work is equally as important. Her work aims to be enjoyed aesthetically too and possess some sculptural qualities. As a result, Ellie aspires to achieve 'sculptural functionality'.
Contact Eleanor