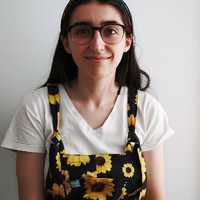 Ella Welsby
BA (Hons) Three Dimensional Design 2020
My third-year focus has been researching into the principles of Slow Living. My work seeks to promote intentionality for us to live more meaningfully. This can be done by taking the time to have a quiet moment alone with our thoughts - which is how the "Emotional Shelter" concept was ideated.
This piece aims to encourage the user to engage in the deliberate act of sitting in silence, choosing to refrain from passive consumption and be present. You sit or stand under the dome and lift the counterweight. It is lowered over your head and shoulders, making sound around you become muffled. It is dark and quiet inside, providing a peaceful refuge. To exit, you pull down the counterweight, which is always in arms reach, and return to the room.
Going forward, I am focused on progressing my career by seeking out opportunities to become a User Experience Design (UX). The skills I have learned during my degree have developed my understanding of product design, ideation processes and working with materials. My desire to craft a product that could influence people's everyday lives is why I'm embarking on a career in User Experience Design.
More information about this project can be found at ellawelsby.com/research, as well as a GIF to show how it would move. I will also be writing about my progress after university and my upcoming project.
Contact Ella