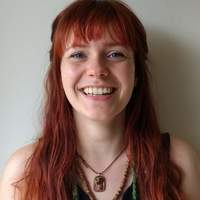 Melissa Daniel
BA (Hons) Three Dimensional Design 2020
I am a Designer/Maker whose practice is driven by sustainability. My main materials are clay, locally sourced wood and biomaterials. I loved traditional ceramics materials and processes, but the amount of energy used in kiln firings made me wonder the potential of unfired clay. At the start of my third year at University, I began experimenting with the potential of 'Cob' - a traditional building material made from clay, sand and straw.
I wanted to explore the material in ways it hasn't been used for before. I have adapted it to be moulded around a willow and twine base structure which is then smoothed with a layer of clay plaster and made waterproof using linseed oil, wax or broken ceramics mosaic. This creates a smooth, biomorphic sculpture.
Visually, I investigate the enchanting shapes and patterns of fungal mycelia and tree roots, giving my work a biophilic aura. I would also describe myself as a 'craftivist', filled with ingenuous optimism for the planet. I want to use my craft to make statements about our 'throw-away' society. I like to make things that are temporary. There is a beauty and knowing that that the earth works in cycles and not everything lasts forever.
After I have graduated I'd like to run workshops doing natural and sustainable crafts, as well as these cob based sculpture commissions. I use green woodworking techniques as well as upcycling with pre-loved wood and other salvaged materials.
During the last few months I have also been in Platt Fields Market Garden, working with their volunteers to build a Cob Herb Spiral and earthen oven using my knowledge of the material, so I can be better informed for future workshops
Contact Melissa