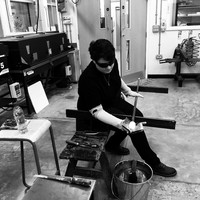 Shona Noden
BA (Hons) Three Dimensional Design 2020
My work focuses on awareness, accessibility and education. This has cumulated in my project, Emotional Realities, proposed as an interactive workshop and online illustrated how-to-guides.The proposed physical outcome of the project is a series of abstract glass forms that have a physical representation of emotions in artworks by local artist, John Priestley.
My practice explores how museums and other educational settings can provide alternate ways to experience artwork, especially for visually-impaired people. I have planned a workshop situation, with a 3D sculpture of the emotional response of a painting, which people can touch and interact with, gaining a more intimate experience and education of the emotions present.
I plan to do a PGCE in, and teach, Design and Technology after graduating from the Three-Dimensional Design course. My work has been excectued so that it can apply to a taught lesson space. This is the main reason for the illustrated guides that teach people the process of making the forms themselves, as well as the workshop-style delivery and interaction of my work.